All Posts
Keeping That Rep In Check! How to Protect Your Brand Online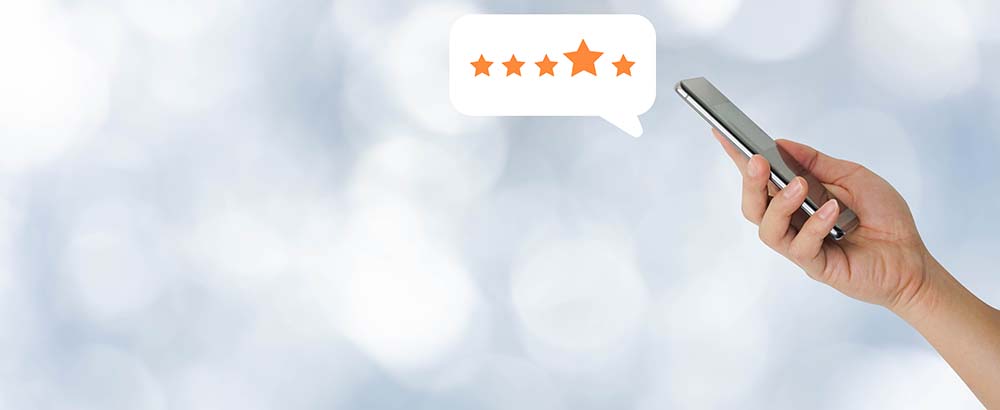 Now more than ever, the people have it: a voice, control and lots of influence. Consumers are empowered by a wealth of information at their fingertips, as well as their ability to share opinions about your products or services in a way that is more widespread than we've ever seen. With what seems like the constant introduction of social media platforms and new advancements in technology, buyer power is through the roof as individuals get to choose how, when, and where they engage with your brand, rather than the other way around. In a study performed by Google, it was revealed that 78% of consumers research a product or service online before making a purchase. In other words, almost 8 out of 10 consumers are searching for reviews from others on your product or service before committing to a purchase. With the reviews from family, friends, and other customers reigning supreme in terms of what influences buying decisions, consumers are no longer looking to product description sections or advertising promises for assurance that they're spending their money on something deemed worthy.
First, let's break it down: what is reputation management? Reputation management, or "keeping your rep in check", is all about governing how your business is perceived and allocating continual efforts towards maintaining a positive reputation for your brand. From building your company's reputation to remedying the bad reviews that challenge it, reputation management is an ongoing process that requires constant attention to internal and external processes and the way in which they impact consumers.
Gone are the days of controlling the impact of the all-mighty consumer opinion. For those in reputation management, it is a whole new world out there and there is a lot to navigate in terms of brand protection. Lucky for you, we're here to help you learn the ropes in protecting your brand's reputation online!
Do your research and keep an eye out.
It is imperative that companies keep a sharp eye on what is being said about their overall brand, products, or services as things can go south quicker than most would think. More often than not, negative reviews go from bad to worse when left unanswered or inadequately remedied. Can you imagine what would've happened to sales numbers for General Mills' cereals had its most recent complaint gone unanswered? (If you missed the shrimp tail saga, check it out here. Another classic example of how much attention negativity can garner online!)
When reviewing the conversation surrounding your company or brand online, the implementation of tools such as Hootsuite or Google Analytics can track mentions of your product or service, allowing you to respond to every kind of consumer mention: the good, the bad, and everything in-between.
Yes, you do want to respond to negative customer reviews – and quick!
Think about negative reviews in terms of a leak in the ceiling: the more time that passes, the messier it gets. There is no question that one negative review can hold the power to deter a slew of potential customers and while it is not good practice to delete negative reviews, it is good practice to use them as a chance to satisfy unhappy customers and grow consumer trust in your brand. Quickly respond with a genuine interest in remedying the issue at hand. Whether it is a simple apology attached to a quick solution or a more extensive remedy, responding to negative reviews does three things for your company: it proves that you are real, that you make mistakes, and that you'll go above and beyond to satisfy your customers in the midst of them. Negative mentions from consumers are the perfect opportunity to turn a dissatisfied buyer into a lifetime advocate!
Quick Tip: Do not jump too quickly to respond to negative reviews. As easy as it may be to jump to your company's defense against an unhappy buyer, take a step back and think about a response and remedy that is in the company's long-term interest. We know that it's simple to fire back with a quick response but take the time to properly weigh the consequences of your response and remember that everything is delivered differently online. Be your own personal relations advisor!
Speaking of lifetime advocates…
It is likely that you have a group of consumers or clients that serve as strong advocates for your company: use them to your advantage! Share the good reviews and boost your company's external presentation. Positive mentions from consumers in reference to your brand are proof of customer satisfaction and a great tool to solidify that your company delivers on it's promises. Share positive reviews, consistently engage with loyal customers, and thank them for being supportive advocates of your brand. It's alright to toot your own horn as long as you thank those who made it possible!
Share quality content and be social.
Dissatisfied consumers or clients will be much quicker to degrade the quality of a brand that is not actively engaging with its users or sharing content that reflects an understanding of what it is that their customers want or need. Engage your audience in a way that attracts their attention and draws them to your brand. In other words, turn off the sales voice when it isn't necessary and authentically engage your consumers.
Simply put, be sincere.
There's no hiding the value in a good template response for the sake of efficiency but it is important to remember the even greater value in your company being perceived as real. Know your customer, what they respond to, and how they want to be communicated with. Do they want to talk to scripted Employee #4726 or helpful Heather from customer relations? Build trust among your target market with a consistent dedication to being transparent and sincere in communication with customers or clients. Believe us, it goes a long way!
Bottom line: Don't let all of your company's hard work of building a positive brand image go to waste because of a lack of reputation management! Serve your customers and clients well — at the point of sale and in any circumstance that follows — and present a dedication to being authentic and sincere as a company; a little transparency goes a long way!